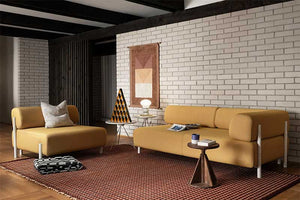 Choosing The Best Fabrics For Upholstery
Choosing the right fabric for upholstery can be a difficult process. There are so many different fabrics to choose from, and it is important to choose the best one that fits your needs. This blog post will give you some tips on choosing the perfect fabric for your furniture!
What Is Upholstery?
Upholstery consists of covering furniture with padding, springs, webbing, fabric, or leather, and attaching padding and springs to the sides and bottom of the furniture. It is derived from the Middle English word upholder, which described an artisan who made fabric furnishings.  
This term is equally applicable to automobile, airplane, and boat furniture, as well as to mattresses, particularly the top layers, though they often vary widely in design.
Fabric, padding, webbing, and springs are all components of upholstery, which covers chairs, sofas, and other furniture. From the Middle Ages through the 17th, 18th, and 19th centuries, the process gained popularity. Various materials have been used throughout history, including hay, horsehair, and wool. In modern upholstered items, metal springs are used combined with foam to make them more durable. The materials of the interior may not be visible, but they contribute greatly to comfort. As for the inner layer, it can always be changed if needed, and depending on how it is used, it may need to be replaced, although choosing durable fabrics will increase the piece's longevity.
Unlike lightweight quilting and garment fabrics, upholstery fabric must hold up to stress exposure that lighter-weight quilting and garment fabrics never experience when stretched, tightened, and stapled. Shops that sell these types of fabrics are known to carry those of high quality.
Kinds of fabric
NATURAL FIBERS 
The flat weave of natural fibers lends itself well to prints while being soft compared to synthetics. Natural fibers are also ideal for tailoring upholstered furniture. Due to their natural attributes, they may be prone to fabric pilling and fading when exposed to direct sunlight.
Linen

:

Flax is the plant that produces linen. It typically contains a lot of hard plant fibers and slubs or natural irregularities.

Cotton

:

Cotton is a natural fabric produced from cotton plants that are soft, absorbent, and highly fade-resistant.

Wool

:

Wool is made from animal hair and is known for providing warmth. Wool is rarely used by upholsterers.

Silk

:

Silk fibers are naturally shiny and strong, but too much sun exposure can cause damage. Silkworm cocoons are used in the making of silk.

Rayon

:

Made from wood pulp, Rayon has a shine similar to silk. Rayon is also called viscose.
SYNTHETIC FIBERS
Fibers made from synthetic materials are often stain-resistant, fade-resistant, and more durable than natural fibers, as they are made using an extrusion process that turns chemicals into fiber strands. Synthetic fibers still pose a risk of fabric pilling (loose strands or balls of fiber that form on a piece of fabric).
Polyester

: Polyester is extremely durable and easy to clean.

Nylon

: Nylon is stain-resistant and durable.

Acrylic

: The texture of acrylic is similar to that of wool. Acrylic is highly durable.

Olefin

: Olefin is durable but should not be used in large quantities, as that may result in pilling.

Polypropylene

: Polypropylene is a material similar to polyester
How yarn is spun into fabric determines the fabric type.
Knit:

Think of a sweater. In upholstery, knit fabrics are rarely used, although they may be attached to knit backings to stabilize them.

Woven

: A loom is used to weave fabric together and create both complex and simple designs.

Nonwoven:

Fibers that look like they're woven, but are twisted together in an irregular pattern (like felt). They may be attached to a knit backing for further durability.

Velvet:

The velvety texture is achieved by weaving two pieces of fabric face-to-face on a loom, then cutting them apart.
Types of Upholstery
TRADITIONAL UPHOLSTERY
Traditional upholstery is a method of covering chairs, seats, and sofas that evolved over centuries before sewing machines, synthetic fabrics, and plastic foam was developed.
The construction is done by hand and includes elements such as springs, lashings, stuffing, wool, hemp, canvas, bridle ties, topstitching, flocks, and wadding.
MODERN UPHOLSTERY
Polyurethane foam is more likely to be used in contemporary furniture partially or totally. It provides structure, resilience (recovery from loading), and ultimately, lightweight. Decorative outer textiles cover the structure. Synthetic polymers are more likely to age and lose performance within a reasonable time and are lighter than traditional fillings.
AUTOMOBILE / AUTOMOTIVE UPHOLSTERY 
Automotive upholsterers, also called trimmers, coach trimmers, or motor trimmers, share many of the same skills as upholstery. This is in addition to being able to install carpet.
It is believed that the word coach trimmer originates from the days when automakers would produce car frames and then deliver them to coachbuilders to add a car body and interior trim.
To meet customers' specifications, trimmers produced soft furnishings, carpeting, soft tops, and roof linings.
COMMERCIAL
Upholstery services for businesses are provided in this manner. Examples would be restaurant seating consisting of booth seats, dining room chairs, barstools, etc. Also, churches, including but not limited to pews and chairs for the congregation, hospitals, and clinics consisting of medical tables, chiropractic tables, dental chairs, etc. Lobby and waiting-area seating are also typical of this type of upholstery. Some retail premises also have upholstered walls.
MARINE UPHOLSTERY
The services of upholstery professionals often include repairing or replacing seating, cushions, cabin furnishings, headliners, as well as carpeting on boats.
Unlike traditional upholstery, marine upholstery has to take into account dampness, sunlight, and heavy use. There are many sources for marine-grade vinyl such as Spradling and Morbern and they come in hundreds of colors and styles now.
There are various types of marine-grade vinyl, each rated for its resistance to cold cracks, rubs, and mold. To prevent rust and early failure of hardware and fasteners, stainless steel must be used for staples and screws.
Picking upholstery fabric: what to consider
What is your budget?
The first step to choosing fabrics for a sofa is to determine your budget. This will influence what you decide to spend on it. Small budgets give you fewer options.
Make sure the fabric is durable
Although the upholstery you choose may be stylish, if it is not durable, then it will barely last a few uses. While cotton might seem like a natural choice, it is a weaker fabric and is prone to wear and tear compared to polyester. Cotton can be used for pillowcases and covers. However, you should use a stronger fabric for the upholstery.
Scale
When choosing a pattern for your fabric, consider the size of the furniture you are reupholstering. Couches and sectionals should be covered with body cloths, while chairs and pillows should be covered with large-scale patterns. Smaller patterns and stripes are suitable for secondary pieces. The surface area on small pieces will not be enough to showcase large patterns, while small, intricate patterns will be overpowering on large pieces.
Select the right pattern
You can enhance the geometry of your furniture with the pattern you choose. When choosing a pattern, consider the size of the room as well. Bold patterns work best for large rooms whereas mini patterns are more suitable for smaller rooms. A pattern should not be cut in random places, or the entire symmetry of the upholstery will be ruined.
Style
Fabrics should be matched with furniture styles. The combination of very modern fabric with a very traditional chair, for example, would not work. As well as choosing upholstery that matches the rest of the room, you will want to ensure that its style fits the rest of the space. Choose fabrics that are complementary to the style and character of the piece they cover. It is advisable to use a traditional fabric for a traditional-style frame.
Consider the scale of the pattern. Both the size of the furniture it covers and the size of the room should be considered. When it comes to patterns, a large bold pattern might suit a larger room better, while a more muted variation or smaller size might seem better suited to a smaller one.
Color
Choosing the color of the fabric as the first consideration when buying furniture has a significant impact on the look of the room, especially if the piece is a large sofa that will be the focal point of the room.
You need to select a color that you will be able to live with for a long time. Consider the color temperature to set the right mood. A room's mood can be impacted by warm and cool colors, so that aspect of the decision should be considered. Trendy colors should be avoided unless you like them.
Keep up the maintenance
Ask for a sample piece of the fabric before buying it to determine if the material is susceptible to stress. Allergy sufferers should opt for microfiber materials since they do not attract dust. Choose a fabric that will not attract mildew if the climate is exceptionally humid.
Comfort is key
Since you will be using the piece of furniture quite often, it is important to ensure the upholstery is comfortable. A couch that is not comfortable will not be conducive to reading or watching movies. Choosing the right furniture and upholstery should be based on your lifestyle and the way you use it.
Play with texture
Choosing the perfect piece of upholstered furniture means considering the color, pattern, as well as texture. Depending on what set of furniture you have, you can either keep the texture the same or mix up matte, shiny and nubby fabrics with coarser and harder textiles. Mixing textures in your living area will help it stand out.
If you are in the market for fabrics to spruce up your home, start with a visit to Nationwide Fabrics. We have tons of great options and unbeatable prices on all our products. Check out some of our most popular items or contact us if you need help finding what you are looking for.
FOLLOW NATIONWIDE FABRIC ON SOCIAL MEDIA!
---