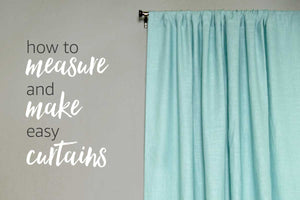 How to Pick the Right Fabric for Curtains: Tips and Tricks
Picking the right fabric for curtains can be a challenge whether you are an interior designer or a home improvement shopper. There are a lot of possibilities to choose from, all of which have their advantages and disadvantages. Using these tips will help you pick the right curtain fabric.
Factors to consider when choosing curtain fabric. 
Choosing the right material for your window treatments will have a major impact on the overall design of your home.
Durability: Sun damage is a problem for all fabrics over time, but silk is especially vulnerable. Chintzes, brocades, and cotton canvas are fabrics least susceptible to sun rot.
Thread count: Decorator fabrics have a higher thread count than clothes, so they tend to last longer. The bolt tag or cylinder tag of some of these fabrics may indicate that they need to be dry cleaned.
Weave: Most decorator fabrics come in plain, twill, satin, or damask weaves. Plain and twill weaves are common among printed kinds of cotton. Some fabrics have satin weaves which create stripes, while a damask weave is a patterned, one-color weave.
Width: Fabric typically comes in two widths: 42 to 45 inches and 54 to 60 inches. Be sure to read the bolt label or tag to ensure that the fabric's width matches what you need. Compared to clothing fabrics, home-decorating fabrics come in a wider variety of widths. We can also find decorating fabrics in widths ranging from 72 to 75 inches, 90 inches, and even 105 or 110 inches.
Density: Find out how much privacy and natural light you would like in your room. This will help you choose the appropriate curtain fabric. Thick curtains block more light and are more opaque, ensuring greater privacy.
Weight: Fabrics like velvet and canvas provide more privacy and insulation. Strong winds will not blow them away. When choosing curtain rods and accessories, it is important to consider the weight to prevent them from breaking.
Opacity: The opacity of the material is another element that is directly linked to privacy. As opaque materials are usually heavier, it has to do with the weight of the curtain. Depending on the degree of opacity, they can reduce or completely block the harsh light in rooms that receive a lot of daylight.
Color: Choosing the right color curtain is important for your home's overall décor and should be carefully considered. The same color can look and feel differently depending on the material used in the décor. Be sure to keep in mind the functionality of the color choice as well.  It is common knowledge that dark colors fade in sunlight while light colors are more susceptible to staining and dirt.
Types of Fabric & Advantages
SHEER CURTAINS  
As you can see through sheer curtains, they are more aesthetic than functional in the sense that they are transparent. They are often layered rather than being used on their own. Typically, they are paired with a heavier curtain in front or a window blind at the back.
VOILE

- Voile is a soft, lightweight, sheer woven fabric. Normally made from 100% cotton, it can also be made from polyester. A good quality one has a very fine surface with a good drape and is better for providing just the right amount of privacy.

LACE

- Lace fabric is suitable for sheer curtains because of its open weave. However, it can be costly.

NYLON NET

- Nylon net is an affordable option for sheer curtains and has a knitted construction.

EYELET COTTON

- This fabric has eyelets all over it, giving the fabric the appearance of an open weave.

MUSLIN

- A thin cotton fabric that is inexpensive and lightweight enough to be used as a sheer curtain, although not as sheer as the others listed.

GAUZE

- Gauze is a sheer, open-weave fabric. It has a special weaving technique called leno weave, which gives it its open weave look - two warp yarns are wrapped around weft yarns in an 8 configuration.
REGULAR CURTAINS
For curtains that are not see-through, you need a durable opaque fabric that has a high thread count but has a great drape and will fall gracefully.
COTTON

- Cotton is the most commonly used fabric for draperies. You can choose from many distinct patterns and styles for this fabric. For homes with both traditional and modern décor, cotton curtains impart a crisp and clean appearance. Using lining can increase functionality and weight. However, cotton is not recommended for windows that are next to the fireplace or kitchen, since it is easily flammable and absorbs odors.
Quilting and dressmaking cotton

are also suitable for curtains, but because of their near translucency when exposed to light, they do not provide adequate coverage. To use these fabrics like curtains, you will need to line them with good coverage and opaqueness.
Madras Cotton

is checkered cotton that has extremely bright colors, which is used to make festive curtains. Also used for curtains are twill cotton and cotton duck. Twill cotton is very attractive because of the subtle pattern on its weave.

Cotton duck

has a thick, but rough texture. 

Gingham cotton

is a popular material for kitchen curtains because of its checkered pattern.

SYNTHETIC FABRIC

- Synthetic fabrics are relatively inexpensive (Polyester, Nylon). A nice, satin-like finish is one of the most attractive features of good fabrics. They are sturdy enough and look good in their fall. As they are lighter than cotton drapery fabrics, synthetic curtains are wrinkle-resistant, easy to wash and drape. However, depending on the fabric quality, they may not last too long. 
Some synthetic fabrics possess UV blocking capabilities, which makes them an excellent choice for tropical areas where sun protection is a priority.
LINEN

- This natural fabric is known for its excellent texture and functionality as a drapery fabric. Ideal material for a casual and relaxed décor style, it is very lightweight. You can filter soft, warm light into your home through linen since it is slightly sheer and blocks the harshness of sunlight. One drawback of the material is that if it is not hung immediately after washing, it wrinkles easily. 

SILK

- The texture and look of silk are highly luxurious and it is a perfect choice for upscale homes. If your curtains are primarily ornamental, silk can be a good choice, as it is a fabric noted more for its aesthetics than its functionality. Moreover, it is very susceptible to sun damage. The best way to incorporate silk drapery in the household is in combination with roller blinds to block the sunlight. You can also consider polyester drapes mimicking the look of silk as they are cheaper and more durable.

VELVET

- A very costly piled fabric with an elegant appearance. Velvet is thick and resistant to cold. Curtains can be made out of most velvet fabrics, but not all. The curtain poles in your home must be attached to wall studs that are strong enough to carry the weight of the velvet curtain.

DAMASK & BROCADE

- High-end drapery fabrics with floral and other patterned designs. Damask has a two-tone design, meaning it has different shades of the same color. Brocade has such rich, deep colors and patterns. Cotton and silk fibers are commonly used. Lining these fabrics may be necessary if you want to preserve their patterns and drape.

SYNTHETIC BLENDS

- Blended fabrics combine many of the best characteristics of cotton, linen, and silk fabrics, making them the best fabric for curtains. You can choose polycotton or poly rayon in suitable weights. Synthetic cotton blends can rival the look of any high-quality curtain material if they are lined.

LINING MATERIAL

- You will also have to line curtains made from thin dressmaking fabrics for full privacy and to prevent the sun from damaging them. Normally, linings are made from black-out, thermal, or poly-cotton fabrics in white or ivory hues. Blackout is used when you need full-on opaqueness. One side of the thermal lining is coated to prevent heat from escaping.  
Conclusion 
When it comes to picking the right fabric for your curtains or drapes, there are a few things you should consider. Sheer fabrics look great when used with light colors and add an elegant touch of softness to any room. For regular curtains, heavier fabrics will help block out more light from outside sources. We can help you find the perfect type of fabric for your needs by giving you examples of each one we carry here at NATIONWIDE FABRIC. Call or visit us today!
FOLLOW NATIONWIDE FABRIC ON SOCIAL MEDIA!
RELATED CONTENT
Car Upholstery Miami
Yacht Upholstery Miami
Home Decor Upholstery Miami
---