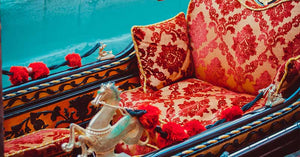 Deep Dive into Velvet for Fabric Enthusiasts!
What Are The Origins of Velvet?
Velvet is a type of fabric distinguished by its short pile. Traditionally woven with silk, it can now be created with a number of fibers, including cotton, viscose, rayon, or synthetic fibers. Velvet fabric is frequently woven as a double cloth and then divided into two pile materials. Silk velvet is the most expensive variety and was historically reserved for royalty.
Velvet is the pinnacle of opulence. We frequently see it on catwalks and it is our first thought when we consider evening wear. Today, everyone can purchase velvet fabric, which is utilized not only for special occasion dresses but also for everyday pieces and loungewear.


Significance of Velvet
Originally, velvet was a fabric reserved for royalty and nobles. Due to the fact that it was made of silk, it was costly and often unaffordable to the common individual. Velvet is now available in a variety of fabric blends and has grown cheaper. It is still regarded as a luxurious fabric and is used for not only clothes but also draperies and upholstery.
Velvet Fabric Drape
While velvet is always soft and the way it drapes and behaves is highly composition-dependent. The following is a summary table of plain velvet and its most distinguishing characteristics.
Silk velvet
The texture is shimmering, soft and smooth, lightweight, with a great drape. This is use for
Evening dresses, formal wear, wedding gowns
Cotton velvet
It is sturdy and soft and has less drape compared to other types of velvet. This is used for occasions to wear dresses, jackets, trousers.
Viscose/Rayon velvet
It is similar to silk velvet in terms of quality and drape. This is usually blended with silk or synthetic fibers, very soft and shiny evening wear, wedding dresses.
Synthetic velvet
It is 100% synthetic or mixed with natural fibers. No stretch, soft, wonderful drape, resistant to mildew which is used for evening gowns, dresses.
Wool velvet
It is heavy, soft, rich, and textured. This is used often very thick for upholstery, draperies, accessories
Linen velvet
Soft, matt, dense linen piles on the linen or cotton ground. Might have a rugged look
Upholstery, curtains with a vintage look
Stretch velvet
Any type of velvet with a touch of elastane, lycra or spandex. It is ideal for women's apparel to accentuate the curves and hug the body
100% silk velvet fabric is quite a premium item and is significantly more expensive than other forms of velvet. To keep velvet inexpensive, manufacturers frequently blend silk and rayon or viscose. The result is an extremely fluid, silky, and reflective fabric that is great for red carpet looks.
Cotton Velvet
While cotton velvet is less expensive, it also appears less sumptuous. This type of velvet, on the other hand, has more substance and makes for attractive suits and coats. The majority of guys like cotton velvet fabric for special event jackets because it is non-slippery and has a low shine.
Additionally, there are other varieties of velvet that most of us have never heard of. For example, Kuba velvet, also known as Kasai velvet, is handwoven and is characterized by a highly complicated geometric design. Kasai velvet is created from the leaves of the raffia tree, a tropical African palm tree.
Types of Velvet Fabric
While some of us select fabric based on how it feels to the touch, others are more concerned with the design. The following are some of the velvet fabrics that you may buy in fabric stores and boutiques.
Velvet crushed has a distinctive crinkle appearance and is exceedingly glossy. Produced by twisting the fabric while it is still damp or pressing the nap in various directions. The Velvet devore is also referred to as 'burn-out' velvet, this sort of velvet material features parts that are pile-free due to the pile being removed to produce the pattern. The ground and pile are made from a variety of yarns. While velvet de Lyons is a substantial, crisp velvet fabric with a dense pile that was woven in Lyons, France. In addition, Velvet nacre is similar to short silk, this type of velvet is iridescent due to the varied hues of the ground and pile. The Velvet de Panne is the Vape of the neck squeezed in a single direction and Velvet pile-on-pile is a velvet that is woven with piles of varying heights.
These are just some examples of velvet materials you can use for your fashion projects. In fact, there are as many of them as there are stars in the sky. What makes velvet even trickier is its resemblance to such 'velvet-look' materials as velour and velveteen
Velvet, Velour & Velveteen
Velvet, velour and velvet plush may look similar to one another but they are actually three separate fabrics with their own unique properties. For example, natural fibers such as cotton can feel nice against your skin while synthetic ones will not have this effect for you; also, be aware that the price difference between these varieties of material could potentially make them worth investing in if health is what's on top priority anyways.
A little tip: opt for manmade materials instead of natural because it's cheaper yet still reliable over time.
Fashion Trends for Velvet
Velvet is a fabric that has been around for centuries. The first velvet was created in China during the 3rd century BC and it quickly spread across Europe during the Renaissance era, leading to an increase in popularity of this type cloth among nobility especially Italian designers who made intricate patterns which became very popular amongst dress designs at this time period because they added royalty touch to them along with 20th century fashion trends like using velvets so you can see how versatile these materials really are.
Bold Fabric Colors
This season, bright hues are the way to go. From black velvet fabric all of sudden its turn into an old classic again with these eye-catching colors flooding onto catwalks. This is perfect timing because pastels also make their return this year too; what's not trendy about that? You can find which shade fits your personality best by checking table 2 below:
The typical velvet colors are gray (metallic, dark, whitened), violet (plum, eggplant), green (emerald, olive, khaki, forest), blue (navy, midnight).
Velvet is a great fabric for building an entire wardrobe. It's not just about mixing different types of outfits with this one trend. You can wear velvet in combination to give yourself more versatility or you could combine it alongside other styles that would be appropriate depending on the occasion (elegant blouses and skirts during workdays versus stilettos along date night). The best thing about wearing something made from such soft material like velvet for a drapey dress during a dinner party. They will always look fresh no matter what happens over time.
Clothes to Make with Velvet
Since velvet has made a comeback, it would be a good idea to add a new item to your wardrobe. Originally reserved for the richest, velvet has long been used to create grandiose dresses and other attire. Velvet clothes have been decorated with gemstones, crystals and embroidery to accentuate their royal look.
Modern fashion redefines the very concept of 'royal' and incorporates luxurious fabrics into everyday wear. Velvet has a gorgeous texture and a beautiful sheen, and it's much more affordable now, so everybody can use it for their projects.
Here are some ideas on how to wear velvet fabric. 
Maxi Dress
A maxi dress is one of the most common ways that people show their love for this material, but there's plenty you can do with it beyond just wrapping yourself up in something cozy and soft. Choose from different materials like silk or cotton-velvet depending what kind Mood) you're going for here: light weight if it's summertime , heavier styles during colder months.
Jumpsuit
If you want to make a statement, there is no better way than in velvet. Jumpsuits and playsuits come with an array of different styles for every occasion  from seductive decolletes or wide-legged silhouettes that will catch everyone's attention whatever design it may be; all the way down through stretch fabric which provides ease at movement while providing interesting texture when paired together. Crushed velvet offers yet another twist on this popular material.
Jacket
Velvet jackets are always in fashion, and they're the perfect addition to any wardrobe. The material will keep you warm on cold days while providing lightweight coverage that is appropriate for summertime wear as well! Think classic cuts or styles with embroidery--this popular fabric can do it all.
Velvet has long been a favorite amongst those looking for luxury items because of how soft yet durable its qualities are; however, there's no need wait until winter time arrives before getting your hands onto one: Embossed varieties exist where intricate patterns fill out every inch from top down making them ideal options if simplicity is what matters most (and budget permits).
Trousers
Velvet trousers are really adaptable. They're ideal for the workplace, the street, and even special occasions. Additionally, they pair beautifully with a variety of tops, from blouses and tunics to shirts, turtlenecks, and jackets. Again, you can experiment with forms to emphasize curves and conceal imperfections. The most practical option would probably be stretch cotton velvet.
Skirt
With so many different styles of skirts to choose from, you are sure not to be disappointed. Whether it's a pencil or unconventional design with pleats at the bottom and pull ons for those who want more fittedness; velvet is an excellent fabric choice
Velvet Fashion Tips
Velvet is a beautiful fabric with luxurious qualities. It's not just for royalty any more, and you can wear it to work or school if desired. Here are some tips on how: 
The best way would be adding an entire outfit made out of velvet (skirt & top) together; however, this may become too much so try mixing fabrics instead like cotton/polyester blends which will give off different textures but still allow your outfits enough layers without feeling overwhelming. The fabric of velvet is as alluring and captivating as it comes, so when wearing a dress made from this material make sure you haven't gone too far towards showing off your figure. Avoiding close-fitting dresses will keep the attention focused solely on what's really important: how beautiful we look. Here are some pieces of advice for adding interest instead of simply revealing everything. The Necklace chooses one with sculptural dangles or delicate chains depending upon where there's least coverage required (ie shirtfront). The Bracelets and Handbags matter here too when you opt for velvet, swap bulky or pretentious handbags with clutches that are more appropriate such as an envelope/purse clutch
A tiny leather belt can be a good option if your dress style requires one but it's not necessary at all times of course.
How to Care for Velvet?
Velvet can be a luxury fabric, so you should treat it respectfully. The care tips depend on the type of velvet and how badly stains are treated with cleaners like water-based dye jobs or spot treating specific areas before washing in a whitespace sink full blast flow of humility. Natural materials such as sheepskin are discouraged heavily because they will wear quicker than synthetic ones but if properly looked after these icky feelings won't matter much at all, just make sure not get anything wet near them when rain's coming down outside. To care for velvet, you have to be mindful of its specific needs. For example, natural fabrics are much softer and glossier than man-made ones while hot water is needed when cleaning any type of material made from animals' skins or hair including fur clothes. Don't forget that rain & snow don't agree with this fabric, make sure your home has an umbrella in case it starts pouring outside today. Most importantly, take note how professional cleaners handle their clients so as not want them back anytime soon
Main Manufacturers of Velvet
The range of materials available to those looking for luxury items is as diverse and impressive today, if not more so than it ever has been. One such material can be found at Bouton Renaud or Redaelli who specialize in velvet apparel; these specialists offer silk/viscose velvets (which feel exquisite against the skin), soft cotton weaves that have become popular lately due their breathability properties - among other things.
Renaud Bouton (France)

Roberto Redaelli (Italy)

Jakob Schlaepfer and Jakob Schlaepfer (Switzerland)

Passport (Italy)
5.HOH (Austria)
Velvet Fabrics 
At Tissura, you can purchase velvet textiles online to bring your most exclusive design vision to life. Whether it's a luxurious evening maxi-dress, a beautiful skirt, or a cozy jacket, whatever velvet garment you're going to create will far exceed your expectations for how real velvet looks and feels.
Velvet at Tissura is stretch, devore, and floral appliqued. It is sourced from the most known European manufacturers, whose unmatched expertise in this fabric creation has earned them the respect of the world's most renowned design houses. 
FOLLOW NATIONWIDE FABRIC ON SOCIAL MEDIA!
RELATED CONTENT
Most Popular Velvet Brands
Everything You Need To Know About Upholstery Velvet
NATIONWIDE FABRIC BAY HARBOR ISLANDS

Miami Fabric Stores
Yacht Upholstery Miami
Car Upholstery Miami
Home Decor Fabrics Miami
---