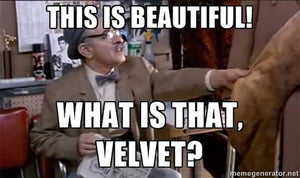 Upholstery Velvet | Everything You Need To Know About Velvet
Welcome to the wonderful world of velvet!  Today we are going to determine the types of velvet, know the most common types of velvet, know  more about the advantages and disadvantages of using velvet,  how to shop for it, how to care for and maintain velvet.
WHAT IS VELVET AND HOW IS IT MADE?
Velvet is a type of woven tufted fabric. When it comes to velvet, the cut threads are evenly distributed, with a short dense pile. This gives the material a distinctive softer feel. In the past, velvet was typically made from silk.  Today, with modern technological advancements,  velvet can be made from linen, cotton, wool, and synthetic fibers.
WHAT ARE THE DIFFERENT TYPES OF VELVET?
Velvet is a weave recognized for its rich, velvety shine that is produced with other fibers such as silk. The thicker and cleaner the pile or nap of the velvet, the more valuable it is. 
Silk velvet
This is the most expensive sort of velvet and is frequently used in high-end gowns and other evening attire. Beading and other adornments on your velvet outfit can make washing more difficult.
Unless you're only spot-treating a stain, it's best to leave washing these clothing to the specialists.
Cotton 
(also known as velveteen) and synthetic textiles such as polyester and rayon are widely available and less priced. These can usually be hand washed or machine washed gently.
How to Determine the General Quality of Velvet
Velvets are distinguished from other fabrics by their pile, the soft surface that caresses your hands upon contact. Velvet's brightness and softness are determined by the fiber used to create the pile. Velvets are constructed with at least two warps and a weft.
What Are The Most Popular Types of Velvet?
Currently, there are various types of velvet fabric available. It can be built from natural fibres, synthetic products and a combination of other materials. 
Here are the best types of velvet to use:
1. Velvet Silk
Silk velvet is one of the most expensive textiles ever created. It offers the feeling of being moist due to its softness and sumptuous texture. Aside from being pleasant to the touch, silk velvet drapes wonderfully on furniture. This sort of velvet is best suited for a garment that will not be utilized on a regular basis and will not be exposed to direct sunlight. It's also easily stained and vulnerable to elements.
2. Velvet made with nylon or Rayon
If you desire the softness of silk velvet but are on a tight budget, rayon velvet is a terrific option. It's light and easy to wear. It is very simple to maintain this cloth material.
 3. Velvet Linen
This velvet is best suited for use in hotter regions because it is airy and cool. Linen velvet takes dye very well, giving it a matte appearance and producing rich color. Because of the varying thicknesses of linen threads that make up the linen velvet, its texture features uneven narrow stripes.
4. Velvet Mohair
Mohair velvet, made from the hairs of Angora goats, is the gold standard for furniture upholstery that will be used frequently. It is extremely tough and can tolerate dirt and crushing. If you prefer a velvet upholstery fabric for heavy-duty use, Mohair velvet is your number one choice.
5. Synthetic Velvet
Fading is unusual in synthetic velvets made of high-quality polyester. Unlike real fibers, synthetic velvets have a distinct appearance and feel. Blend the synthetic and natural fibers together to get the most out of this fabric.  
6. Crushed Velvet
This fabric has a crinkled appearance, as the name suggests. The crushed velvet obtained its appearance through a production method that bends the cloth and then flattens it with immense pressure. Crushed velvet refracts light in all directions and has a lovely shine and feel to it, making it visually appealing. Remember that velvet upholstery is usually resistant to stains. But if there are spills, wipe it up immediately with a clean damp cloth with a mild soap. Avoid putting your furniture with velvet upholstery in direct sunlight. And also, never iron velvet as it may result in a permanent mark.
 As one of the leading fabric shops, we at the Yorkshire Fabric Shop assure our customers to give the best quality upholstery velvet materials. We never run out of great fabrics that would match their needs and wants. If you are looking for high-quality velvets, come and visit our store or shop on our website where all fabrics are visible.
Most Common Types of Velvet Fabrics
crushed and panne velvet

velveteen

corduroy

embossed, brocade, and burnout velvet

rayon and silk velvet
Panne Velvet and Crushed
Crushed velvet features a splotchy moiré pattern. This is due to a production technique in which the fabric is twisted and great pressure is used to flatten the pile, causing the nap to face different directions. Panne velvet is a form of crushed velvet in which the pile has been flattened in the same direction throughout. The vast majority of these velvets are elastic, either because they include elastane or because their foundation is knitted rather than woven. They are typically constructed of polyester.
Because the crushed velvet pile is already flat, you may iron from the wrong side and press seams open without leaving marks! Because the garment will not require fasteners, a stretch crushed velvet is ideal for novices. However, be mindful of the direction of stretch: a 2-way stretch panne velvet would work for a dress, but not for a bodysuit, which would necessitate a 4-way stretch crushed velvet that can extend vertically as well.
Velveteen
This fabric has a short and deep pile with a fairly uniform distribution, giving it the appearance of suede. Velveteen is often made of 100% cotton and has more substance and less drape than ordinary velvet. They are also more matte because to the shorter pile.
Cotton is very heat resistant, and the velveteen's very small pile is less prone to flatten, so you may pre wash it and even iron it from the wrong side. However, avoid pressing seams directly with your iron, since this may leave marks. Instead, apply a lot of steam and use your fingers or a wooden clapper to force the seam open. Which patterns to choose? 
Corduroy
Corduroy is constructed with extra weft threads that are woven and clipped to form lines that run vertically along the cloth. It's a tough fabric that's usually made of cotton but can also incorporate polyester or elastane. The ribs can be wider or narrower, and their width is characterized by measuring the number of ribs, or wales, per inch. Needlecord is the thinnest at roughly 21 wales, followed by 14 wales corduroy and 8 wales corduroy with wide ribs.
These textiles may normally be machine-washed and ironed from the wrong side by lightly raising the iron and placing it on the cloth rather than dragging it across but try it on a test piece first.
To be sure, use a scrap of fabric firs. If ironing flattens the ribs, you may easily eliminate the wrinkles with a steamer. When cutting your design, be very careful to keep the grainline in mind, as the vertical lines will highlight any tiny movement.
Which patterns should I use for Corduroy products? 

Corduroy is ideal for pants and shorts like Chataigne and Narcisse due to its durability. Wide-rib corduroy can also be utilized to produce jackets and coats, as evidenced by l'Usine à Bulles' Opium coat and Carina Spencer's Nénuphar jacket.
Embossed, brocade and Burnout Velvet
The pile of Embossed Velvet is crushed only in certain areas, resulting in shine and color-depth contrasts that produce a pattern on the cloth. Brocade velvet patterns are created by weaving using extra warp threads or by cutting the pile at varied lengths. Finally, burnout velvet, also known as velvet devore, is treated with acid, which dissolves a portion of the pile.
Don't even think about ironing these fabrics: simply steam will suffice. You'll also need to dry clean the finished product. It's critical to not only follow the nap direction, but also to match the patterns while cutting your pieces. You may need to line some or all of your burnt velvet garments.
Rayon and Silk Velvet
Silk velvet is a very fluid fabric that is notorious for being one of the most difficult to work with. These luxurious textiles are typically smooth, but embossed, brocaded, or burnout silk velvets are also available. Rayon velvet has a similar drape to silk velvet, although it is less glossy and less expensive.
To keep these sassy fabrics under control, consider basting at every stage and sewing by hand as much as possible, especially for hems (avoid topstitching). All previous advice remains valid: no ironing, just dry cleaning, and use steam to open your seams!
Choose a simple design to reduce the number of seams and darts as much as possible. For the holidays, an Arum dress in silk velvet, for example, would be ideal.
WHAT ARE THE PROS AND CONS OF VELVET AS A FABRIC?
The advantages of velvet  
These include the good chemical resistance qualities, such as alkali resistance, chemical resistance, pest resistance, and mold resistance.In addition , the texture is soft, thin, and translucent, with a smooth and elastic handle. Its is comfy and stylish to wear on the body.Also, It is difficult to deform and wrinkle after high-temperature shrinkage treatment. The physical attributes are excellent, specifically it has high fiber strength, wear resistance, and durability. It has a light and clean look, good air permeability, and drape velvet plump and smooth and thick. The texture, soft feel, soft sheen, wear-resistant and durable, good warmth, and plenty of flexibility. The texture is silky and has an opulent appearance. It complements a variety of décor styles. In terms of aesthetic value, it is an extremely conducive accessory that is ideal for use during the cold seasons
Disadvantages of velvet 
Firstly, velvet is a delicate fabric, so it may quickly deteriorate with use. The cleaning process can be more difficult than with other fabrics. It is highly absorbent of dust and any abrasion to the fabric will obliterate the texture. 
MAINTAINING, WASHING, AND CARING FOR YOUR VELVET UPHOLSTERED ITEMS
How to Clean and Maintain Velvet
When hand-washing velvet, remember before washing, turn the item inside out so you're working with the flat side. With cool water, use a small amount, no more than a teaspoon of liquid laundry detergent suited for delicateness.  Squeeze soapy water through, then thoroughly rinse.  To dry, hang or lay flat.
Velvet is an expensive investment, it is critical to properly care for it. Before you begin, you should be aware of the quality and type of velvet you have, as well as any garment care instructions, to verify that the washing procedure you use is safe for the sort of velvet you are working with. The most important thing to remember while washing velvet is to keep its soft texture and delicate nap. Always test a tiny area first to ensure that the cleaning approach produces the desired results.
Initially, wash the clothing alone or with a moderate load to avoid excessive agitation. Also, make use of the chilly or cold water settings. Stay away from bleach and fabric softeners, which might destroy the delicate nap. When the cycle is ended, remove it as soon as possible. To dry, hang or lay flat.
Velvet and Stain Removal 
For stain removal, the easiest way to combat stains is to cure them as soon as possible. If you are unable to cure it when it occurs, remember that you have a better chance of eradicating it sooner rather than later. As an example: Wipe away any excess. There are specific products made that are geared towards caring for delicate fabrics. It's always smart to have these handy PRIOR to a stain taking place. You can get quality cleaning products specifically for upholstered velvet here.
FOLLOW NATIONWIDE FABRIC ON SOCIAL MEDIA!
RELATED CONTENT
Most Popular Velvet Brands
Everything You Need To Know About Upholstery Velvet
NATIONWIDE FABRIC BAY HARBOR ISLANDS

Miami Fabric Stores
Yacht Upholstery Miami
Car Upholstery Miami
Home Decor Fabrics Miami
---